John Cleese to make BBC sitcom comeback – BBC News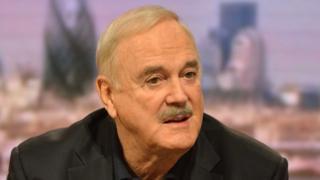 In 2015, John Cleese said there was "no way" he'd work at the BBC. Now, though, he appears to have changed his mind.
Almost 40 years on from Fawlty Towers, the 77 -year-old is to make a brand-new BBC sitcom that will reunites him with his Clockwise co-star Alison Steadman.
In Edith, they'll frisk old-fashioned flames whose rekindled fiction thumps the buffers when her 50 -year-old son moves back in.
According to Cleese, Charles McKeown's "are the most delightful writes I've been routed in the last 100 years".
He did in the following statement: "It will too be particularly nice to work with Alison again because we connected makes in Clockwise all that time ago."