Brexit vote site may have been hacked, MPs say in report – BBC News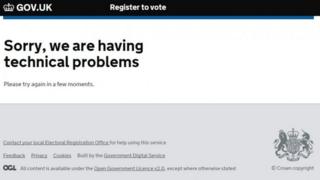 A voter registration site that crashed in the run-up to last year's EU referendum could have been targeted by a foreign cyber assault, MPs say.
The "register to vote" site crashed on 7 June last year just before the deadline for beings to sign up to vote.
The UK government and electoral administrators condemned a surge in demand after a TV debate.
But MPs on the parliamentary public administration committee say a foreign cyber assault could not be ruled out.
The committee's chairman, Leave-supporting Conservative MP Bernard Jenkin, told BBC News there was no "hard and fast" evidence the registration area had been targeted.