Climate change scientists' bid to drill Everest glacier – BBC News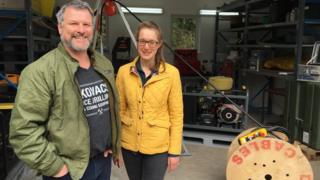 Climate-change scientists are to travel to the Himalayas in a bid to become the first team to successfully instructs through the world's highest glacier.
The Aberystwyth University-led group will use a instruct changed from a auto move to cut into the Khumbu glacier in the foothills of Everest.
They will work at an altitude of 5,000 m( 16,400 ft ), in the expectations of finding out how climate change changes Khumbu.
Project leader Prof Bryn Hubbard said there will be "particular challenges".
The 10 -mile( 17 km) long glacier, in north eastern Nepal, flows from as high as 7,600 m( 25,000 ft) down to 4,900 m( 16,000 ft) and is often used by climbers on their nature to Everest base-camp.