Easter getaway: When is busiest by road, rail and air – BBC News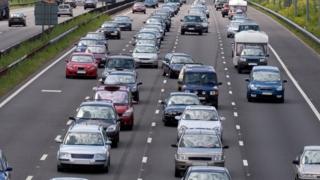 More than 20 million cars are expected to be on the roads and more than 200 rail engineering succeeds are taking place over Easter.
The busiest date for the largest getaway is likely to be Thursday, with motorists being urged some tours could make 90 "minutes " than usual.
The roads to avoid
The M2 5 between Watford and Chiswell is likely to see the worst slows on Thursday, in particular between 16:00 and 18:00 BST.
According to traffic information busines Inrix, the section between interchanges 19 and 21 could take up to two hours and 10 minutes to cover 39 miles. It are commonly take about 40 minutes.
The M6 between Crewe and Warrington is also expected to make more than twice as long as usual.